Kearney Sr High School
Class Of 1958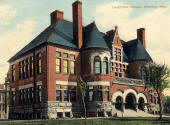 Nostalgia
HEY, WASN'T THIS US
A little house with three bedrooms,
One bathroom and one car on the street.
A mower that you had to push
To make the grass look neat.
In the kitchen on the wall
And no need for recording things,
We only had a living room
Where we would congregate,
Unless it was at mealtime
In the kitchen where we ate.
We had no need for family rooms
Those two rooms would work out fine.
But always there was one of them
With something worth the view.
For snacks we had potato chips
There was Lipton's onion dip.
Store-bought snacks were rare because
And nothing can compare to snacks
Weekends were for family trips
We all did things together --
Even go to church to pray.
When we did our weekend trips
Depending on the weather,
No one stayed at home because
Sometimes we would separate
But we knew where the others were
Without our own cell phone.
Then there were the movies
With your favorite movie star,
To watching movies in your car.
Then there were the picnics
At the peak of summer season,
Pack a lunch and find some trees
Get a baseball game together
With all the friends you know,
Have real action playing ball --
Used to be the family friend,
And didn't need insurance
The way that he took care of you
Because he took an oath and strived
Remember going to the store
And when you went to pay for it
Nothing that you had to swipe
And remember when the cashier person
And it was just a few cents more
There was a time when mailed letters
Without a lot of junk mail ads
The mailman knew each house by name
And knew where it was sent;
There were not loads of mail addressed
There was a time when just one glance
Was all that it would take,
And you would know the kind of car,
A few notes about Kearney and Kearney High School --
Our old "Longfellow High School" building is now gone. The site just North "Old Junior High" became Central Elementary School. In October 2006 an addition to this building became the Robert M. Merryman Performing Arts Center which turned the auditorium where we had our convocations into a National Landmark for the performing arts. Please see the web site www. merryman.kearneypublicschools.org/history Pretty neat for our old Jr. High.
The Youth Center at Harmon Park was razed a few years back and now is brand new bigger and better facility. The city wanted to tear out the fountain just south of the youth center but citizens demanded and got a complete overhaul.
For twelve years KHS Track and field dominated State Track then came two or three years with good results but not the top win. Last year they were on top again.
2006 KHS beat Omaha Westside 41-21 in the State Class A Football championship, much to the chagrin of all the Omaha schools. Soccer has just been added at the High School and College level in Kearney. Basket Ball is doing well as well as Cross Country. swimming, golf, etc.
A Citizens committee has been appointed to explore the prospect of a new high school. The present facility was built in 1959 and occupied with the first students in 1961. They are at a 50-50 split at the moment on whether to renovate or build new. KHS has 70 class rooms 1389 students with teacher to student ratio of 1 to 18. Kearney has the largest kindergarten on record coming up this year. The country class one schools in the surrounding area are now absorbed by the Kearney system.
Kearney keeps turning out top students with perfect ACT scores. Kearney High grads scatter to all corners of the country to college and careers. The University of Nebraska at Kearney does keep many and is an outstanding University.
Harmon Park looks a little different with the trees pruned back by ice and tornado damage, but is still beautiful. Much youth soft ball is played and many use the long time park. The light house is still there and the swimming pool has been fitted with a slide and refurbished.
We have another pool at Centennial Park in South Kearney and we have a new park in South West Kearney called Yanney which has a tower, lake, meeting rooms, etc. Remember the Blue Bell? There is a Mitzy's Pavilion at Yanney you can rent for weddings or family gatherings, very pretty. Named after Mitzy at the Blue Bell ( she was a Yanney). A brand new senior center has been built at this site . All this was made possible with donated money. There is also a Nina Hammer park in South East Kearney on a much smaller scale. www.yanneypark.org
The second Cabela's was located in Kearney. It is a big draw for the hunter and fisherman. There are Cabela's all over the country now.
Cruise Nite is a 500 + car show and cruise in down town Kearney and in 2008 was voted Nebraska's outstanding tourist event. Thousands attend the third weekend of July and it is one Kearney party you don't want to miss. This 4 day event has entertainment ,cars ,drag races, car auction, show & shine, food and fun and crowds. It used to have a drive in theatre component however the tornado damaged it and it got torn down in 2008!! (boo hoo)!! You just would not believe this Kearney event!
The Great Platte River Archway across the interstate is really an outstanding feature. It gives the history of the area in a fun venue and if you have not had the opportunity to view it your time is well spent coming to Kearney to see the one of a kind feature. Kearney is getting a second exit off the interstate to make access easier. www.archway.org
In case you are wondering -- We have had some rough weather in the past three years. ice, tornado, strong winds -- Many trees, the Buffalo County Fair grounds, Harmon Park, Homes, roofs, no loss of life for which we are so thankful.
The Buffalo County Fair grounds has completely changed. New huge facilities etc. They hold national cattle shows there as well as many other entertaining community events. We also have a large Event center in the South of Kearney over the interstate where we have a pro ice hockey team and nationally known entertainers. The place is huge. Remember the World and Fort Theatres? The Fort looks the same but is a dentist office, the World theatre has been saved and is being remodeled to original condition and will show special films thanks to a KHS grad and all the money he raised. A new Cinema 8 and theatres in the mall show 1st run movies. www.kearneyevents.com
There is so much more, so many changes but the down town still has the bricks (streets). If you want to know more ASK!!
'Someone asked the other day, 'What was your favorite fast food when you were growing up?'

'We didn't have fast food when I was growing up,' I informed him. 'All the food was slow.'

'C'mon, seriously. Where did you eat?'

'It was a place called 'at home,' I explained. ! 'Mom cooked every day and when Dad got home from work, we sat down together at the dining room table, and if I didn't like what she put on my plate I was allowed to sit there until I did like it.'


By this time, the kid was laughing so hard I was afraid he was going to suffer serious internal damage, so I didn't tell him the part about how I had to have permission to leave the table. But here are some other things I would have told him about my childhood if I figured his system could have handled it:

Some parents NEVER! owned their own house, wore

Levis , set foot on a golf course, traveled out of the country or had a credit card. In their later years they had something called a revolving charge card. The card was good only at Sears Roebuck. Or maybe it was Sears & Roebuck. Either way, there is no Roebuck anymore. Maybe he died.


My parents never drove me to soccer practice. This was mostly because we never had heard of soccer. I had a bicycle that weighed probably 50 pounds, and only had one speed, (slow). We didn't have a television in our house until I was 5. It was, of course, black and white,


I was 13 before I tasted my first pizza, it was called 'pizza pie.' When I bit into it, I burned the roof of my mouth and the cheese slid off, swung down, plastered itself against my chin and burned that, too. It's still the best pizza I ever had.


We didn't have a car until I was 4. It was an old black Dodge.


I never had a telephone in my room. The only phone in the house was in the living room and it was on a party line. Before you could dial, you had to listen and make sure some people you didn't know weren't already using the line.

Pizzas were not delivered to our home. But milk was.

All newspapers were delivered by boys and all boys delivered newspapers my brother delivered a newspaper, six days a week. It cost 7 cents a paper, of which he got to keep 2 cents. He had to get up at

every morning. On Saturday, he had to collect the 42 cents from his customers. His favorite customers were the ones who gave him 50 cents and told him to keep the change. His least favorite customers were the ones who seemed to never be home on collection day.

Movie stars kissed with their mouths shut. At least, they did in the movies. Touching someone else's tongue with yours was called French kissing and they didn't do that in movies. I don't know what they did in French movies.. French movies were dirty and we weren't allowed to see them


If you grew up in a generation before there was fast food, you may want to share some of these memories with your children or grandchildren. Just don't blame me if they bust a gut laughing.

Growing up isn't what it used to be, is it?
My Dad is cleaning out my grandmother's house (she died in December) and he brought me an old Royal Crown Cola bottle. In the bottle top was a stopper with a bunch of holes in it. I knew immediately what it was, but my daughter had no idea. She thought they had tried to make it a salt shaker or something. I knew it as the bottle that sat on the end of the ironing board to 'sprinkle' clothes with because we didn't have steam irons. Man, I am old.
How many do you remember?

Head lights dimmer switches on the floor.
Ignition switches on the dashboard.
Heaters mounted on the inside of the fire wall.
Real ice boxes.
Pant leg clips for bicycles without chain guards.
Soldering irons you heat on a gas burner.
Using hand signals for cars without turn signals.
Older Than Dirt Quiz:
Count all the ones that you remember not the ones you were told about
1 Blackjack chewing gum
2. Wax Coke-shaped bottles with colored sugar water
3. Candy cigarettes
4. Soda pop machines that dispensed glass bottles
5. Coffee shops or diners with tableside juke boxes
6 . Home milk delivery in glass bottles with cardboard stoppers
7. Party lines
8. Newsreels before the movie
9. P.F. Flyers
10. Butch wax
11. TV test patterns that came on at night after the last show and were there until TV shows started again in the morning. (there were only 3 channels)
12.. Peashooters
13. Howdy Doody
14. 45 RPM records
15. S& H greenstamps
16 Hi-fi's
17. Metal ice trays with lever
18. Mimeograph paper
19 Blue flashbulb
20. Packards
21. Roller skate keys
22. Cork popguns
23. Drive-ins
24. Studebakers
25. Wash tub wringers

If you remembered 0-5 = You're still young
If you remembered 6-10 = You are getting older
If you remembered 11-15 = Don't tell your age,
If you remembered 16-25 = You're older than dirt!

I might be older than dirt but those memories are the bestpart of my life.